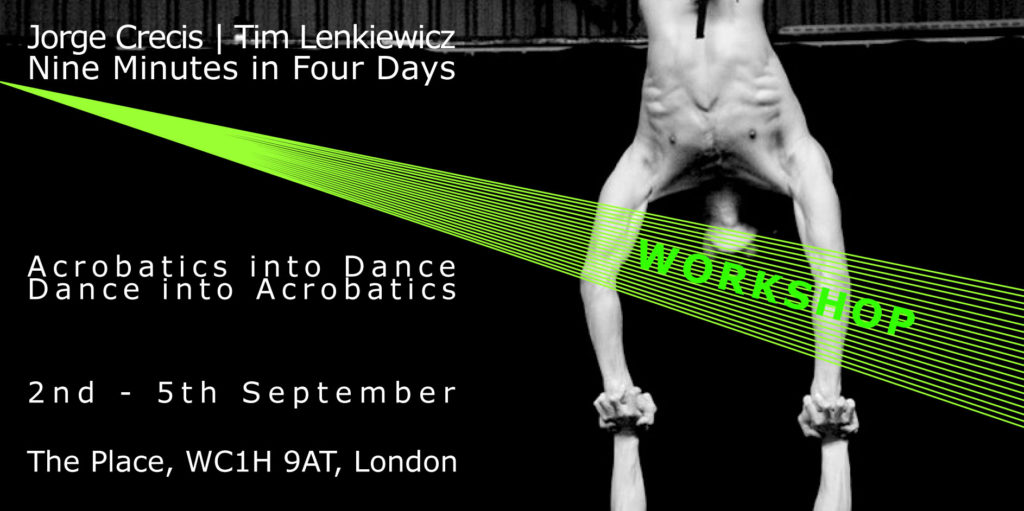 Join Jorge Crecis and Tim Lenkiewicz for four days of workshops and classes at The Place in London using a fun and creative process to combine dance and circus.
2nd – 5th September | The Place, London School of Contemporary Dance
Flexible booking options available: attend either 2 or 4 days
https://nine_minutes_in_four_days.eventbrite.co.uk
Tim and Jorge are excited to get into the studio this September with an intimate group of up to sixteen performers to look at different ways of combining their work. On this rare occasion participants will gain insight into both Artists' approaches to training and creativity, and leave with several tools they can use to continue their own exploration combining dance and acrobatics beyond the end of the workshop.
The workshop will provide you with tools that will help you to combine these disciplines. It will include among other things:
M.A.S.A; A proven methodology for warming up quickly and effectively, reducing the possibility of injuries and using the body as a gateway to achieving the state of mind associated with peak performance.
Detailed acrobatic work starting with technique fundamentals, and moving on to more complex individual and partner skills such as flips, and tumbling combinations; and partner balances/lifts. The detail of these will depend on the acrobatic level of the participants, but with many years experience of teaching at all levels Tim is happy to cater to all levels from beginner to advanced.
A creative process based on the previous work of both artists and combining their individual approaches to find new ways of integrating dance with acrobatics.
Ways of working that will enable participants to continue their own exploration of this starting point and lead to an understanding you can continue to use in your own practice beyond the four workshop days.
Workshop Leaders:
Jorge Crecis has been commissioned as a choreographer by a number of professional companies around the world, including Acosta Danza (Cuba), Scottish Dance Theatre (UK), and Beijing 9 Contemporary Dance Theatre (China) among others. His latest creation for Carlos Acosta's new company has been described as "a liberating work… a prodigy of acrobatics, strength and mathematical precision." (Ana Leon. Cubanet) and will be performed at Sadlers Wells this September. Jorge also holds a degree in Sport Science and leads professional and company classes for Akram Khan Company, DV8, Punchdrunk, Rambert, etc.
He is currently a PhD candidate at Goldsmiths University of London, focusing on methodologies for training and replicating higher states of consciousness for dancers in performance.
Tim Lenkiewicz is an accomplished and experienced, teacher, project leader, and an award winning director; his work combines Circus with Dance, Theatre and Technology to create beautiful, innovative storytelling. For eighteen years, the circus has led him around the world and back again. As well as giving countless performances, he trained at London's National Centre for Circus Arts and Kiev State College for Circus and Variety arts in the Ukraine. He has been an associate artist at the Roundhouse and his work has been commissioned by the National Theatre. He is the artistic director of Square Peg Contemporary Circus and most recently he directed "I Have My Demons Have Me" for Formosa Circus Arts (FOCA) in Taiwan which will be touring internationally from 2018. He is always looking for interesting collaborations and is very excited to be working with Jorge.