4th April 2012
I'm writing this now after three days in the Speigle tent which has been built behind the roundhouse for the 2012 Roundhouse Circus Festival.
The rigging build went smoothly and quickly thanks to Brian and Jo from High Performance Rigging and Becky Burchell, the Roundhouse's wonderful production manager. But although it started smoothly and we were looking forward to two days of being able to run through the show.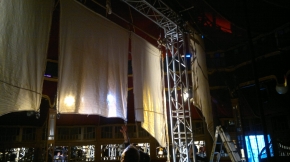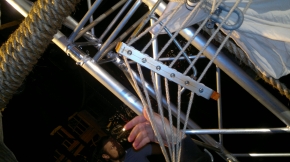 It seems we hoped too soon.
Despite several weeks of meetings and planning, at the last minute we were pretty seriously let down by our lighting designers. In the end, after two days of incompetent plotting and focussing, and what turned out to be an awful design (not what we had discussed at all) I had to send the designers home.
Luckily at midnight, sitting in the Roundhouse Technical office, technical manager Jacob Schwartz (Coas to his friends) and LX technician Rob Metsoja created a bit of extra time and suggested opening the doors at 9:30 am to solve the problem. So there we were in the tent, in the morning, watching our breath float around with the Lighting desk memory wiped clear, and in two hours the lights were plotted, focussed and beautiful.
Just in time for the technical rehearsal followed by the dress.
Raked back from two days to only four hours late, and although we left the venue at midnight, we've done everything we need to do before the premier tomorrow.
Sigh of relief!