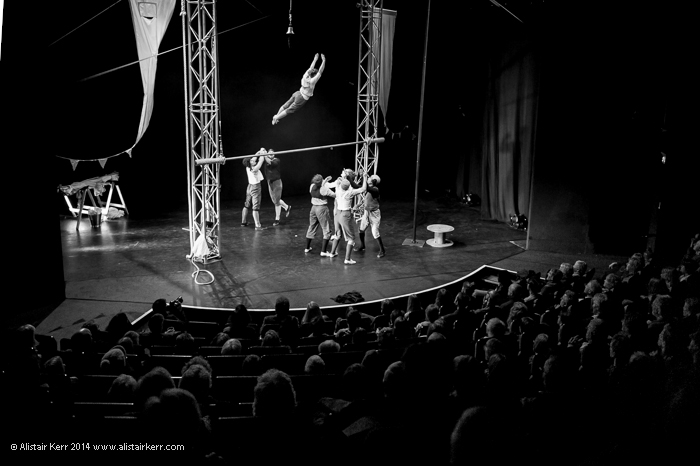 I'm eating a quiche, listening to the Beatles, and on the train to Liverpool. I love my job.
The Square Peg tour began in spectacular style just over a week ago, at the StAnza International Poetry Festival in beautiful St. Andrews, Fife. It was a brilliant way to begin, with a sold out audience of poetry fans, watching our circus show based on The Rime of the Ancient Mariner.  After 6 weeks of demanding rehearsals, we finally added the 2 missing pieces of the puzzle…
Firstly, the lighting: Will Ingham, our lighting designer, worked with Tim to create a beautiful atmosphere on stage. I don't think I've ever seen our aluminium truss look so good! The poem is such a visual experience to read, Coleridge mentions colour often, be it the blood red sun, or 'the waters, like a witches oils, burnt blue and green and white'. Will has really captured this essence. He's also taken care to think through where to place lights so that they are not dazzling us while we perform our tricks, making his design a pleasure behold and to perform in. I really enjoyed our tech-rehearsal, which is an achievement in itself!
[note by the editor: Nikki managed to successfully learn some Chinese Pole during the tech – if you've ever done a tech or learnt Chinese Pole you'll understand…]
The final piece of the puzzle, the audience! What a wonderful audience they were. They laughed, they gasped, they listened, they watched, and even spontaneously applauded throughout! It's such a confidence boost for the cast to feel that communication with the public during the show, especially after 6 weeks rehearsal in a cold warehouse. As I sat on stage in the pre-show I could hear their excited chatter about the start of the festival. I thought about the poem, how I first read it nearly 10 years ago, and became a fan. I hoped there might be some more Rime fans in the audience, and perhaps some hearing the words for the first time. It was a thrilling feeling. It was great to see their responses on twitter that night.
So, onwards now to Liverpool. Eleanor Rigby is playing on my headphones and the train has just passed through Stafford. I'm really excited about arriving in a city I've heard so much about, and always wanted to visit. I'm exciting about seeing our venue – the Black-E. I'm looking forward to working with their youth circus, and hosting adult circus workshops during our residency. I'm looking forward to performing in the round in our new space, with the rig at its maximum height! Maybe I'll even find time to take a ferry across the Mersey?
Tomos James