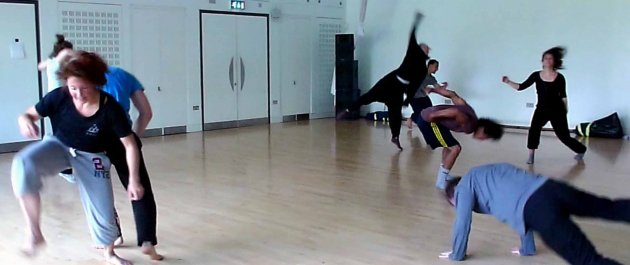 Creative Workshop in Acrobatics and Gaga movement
"A fantastic opportunity to work with the creators of the award winning circus theatre show 'Rime'."
Facilitators:
Tim Lenkiewicz, Artistic Director, Square Peg
Martin Corri, Choreographer, Square Peg
Workshop Assistant:
Anthony Middleton, Artistic Director, Middleton Corpus
Over four days, with artistic director Tim Lenkiewicz, we will be looking at acrobatic techniques used by Square Peg Contemporary Circus together with movement ideas from Martin Corri whose work combines the Gaga approach developed by Ohad Narin of Bhatsheva Dance Company with ideas inherited from his work with Jiri Killian of Nederlands Dance Theatre (NDT1).  Anthony Middleton is a choreographer who uses acrobatic principles in contemporary choreography.  He has developed his practice through his dancing career and his experience as an international championship level Acrobatic Gymnast.
Each day will consist of three sessions: a dance class, an acrobatic training session and a creative session exploring different ways of combining these ways of working.
Participants will work alongside the members of Square Peg Contemporary Circus under the guidance of Tim Lenkiewicz and Martin Corri, to gain insight into the company's work and learn techniques for encouraging creativity with dance and acrobatics.
Open to participants with experience of solo, partner and/or group acrobatics or a strong background in dance.
If you specialise in other circus/physical skills, or are uncertain about your suitability but are interested in taking part, please contact tim@cirquit.org.uk to enquire.
Age: 18+
Places available: 12 max (Saturday 5 due to smaller studio size)
Dates: Wednesday 30th July – Saturday 2nd August       Times: 9am – 5pm
Costs:
1 day £60
2 days £100
3 days £150
4 days £200
1 day £50
2 days £90
3 days £120
4 days £150
Location:
National Centre for Circus Arts (formerly Circus Space)
Coronet Street
London
N1 6HD
Bookings: For bookings email flora@cirquit.org.uk